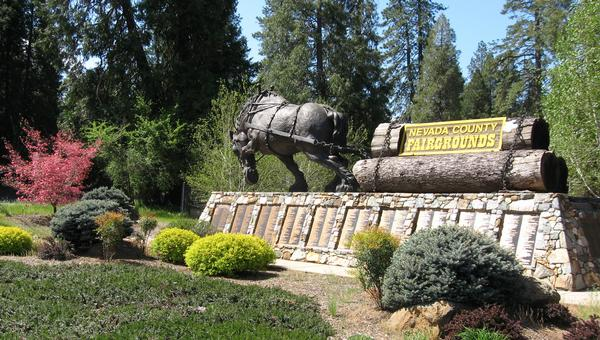 Grass Valley, California sits nestled roughly at about 2,500 feet in the vibrant western Sierra Foothills at the heart of California Gold Country region. Rich with history and home to the Empire, Northstar, Pennsylvania and Brunswick mines (among others), Grass Valley was a prosperous gold rush town in the early 1900's. $400+ million in gold was extracted from these mines over 100 years. The historic nature and stunning mountain scenery of the Sierra Foothills make homes for sale in Grass Valley highly sought after.
Grass Valley real estate offers a wide variety of choices from very rural to historic downtown. In the outlying areas, small farms thrive and closer in visitors will find many neighborhoods with single family homes, condominiums, and apartment buildings.
It was the gold that that pulled thousands over some of the roughest terrain through the Sierras. Travelers who made the journey discovered a robust landscape of grassy pastures, creeks, and good soil and pine covered hillsides. Many of the miners arrived from Cornwall in the UK, where they had acquired special skills used extensively in the mines. Their influence in Grass Valley and nearby Nevada City is still evident today. To celebrate the Cornish heritage, annual festivals in the spring and during the Christmas season are held downtown.
Many of the buildings from the 1860s still remain, and add to the ambiance of the charming downtown area. A temperate Mediterranean climate is conducive to year-round outdoor recreation, and abundant walking and hiking trails, fishing streams and nearby ski-lifts are a complement to the active lifestyle.
Sports and recreation are well-supported in the community where tennis courts, soccer and baseball fields, basketball courts and a public swimming pool are within easy reach of Grass Valley CA homes. Several city parks featuring walking trails, playgrounds and picnic areas are ideal for family outings. Mountain biking and horseback riding in the nearby mountain areas are favorite local pastimes, and the many streams and nearby lakes are ideal for boating and fishing. Several public golf courses offer a challenging and scenic round. Lake Tahoe can be reached in less than an hour and offers world-class skiing, snowboarding and winter sports.
Our excellent quality of life has lured a highly educated and skilled labor force with particular expertise in electronics and information processing. Nicknamed "The Silicon Valley of the Sierras"
Time Magazine has called Grass Valley "one of the top ten best small towns to live in." Downtown Grass Valley is considered by many to be the one of the best preserved historic towns in the United States.
We invite you to come and see for yourself that there is no better place to live, work and play then in Nevada County.