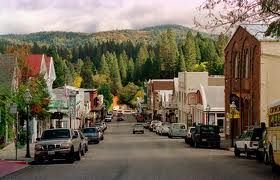 Nevada City sits just about an hour away from Sacramento and about an hour west of Lake Tahoe, close enough for commuting convenience yet far enough away from the city to preserve its quiet charm. It sits in the foothills of Sierras at an elevation of 2,400 feet. Just down the road are Grass Valley, Penn Valley, and Lake Wildwood a gated community offering golf, tennis and boating.
A historically rich area dating back to the California gold rush, there are nearly 100 nationally registered historic sites and nearly 20 registered landmarks in the city alone including the historic Nevada Theatre which is the oldest theatre in all of California. Offering a lifestyle rich in recreation, culture, and history, the new owner of Nevada City real estate may not be concerned about leaving the area for some time to come. To this day, as you meander around the town, you can still imagine the rough-and-tumble world of a century-and-a-half ago.
Because of the local charm and history, homes for sale in Nevada City are continuously in high demand. Nevada City Victorian homes in the area have often been carefully restored to their former glory. There are ranch-style homes, charming city cottages, rustic country and mountain cabins and ranch estates. Exquisite custom homes on acreage are among the Nevada City CA homes that are available for the luxury home buyer.
Nevada City and Grass Valley have attracted a host of hi-tech companies to the area in recent years. So much so, in fact that it is now often dubbed the "Silicon Valley of the Sierras."
Endless recreational activities are available to the Nevada City homeowner including rafting, kayaking, rock climbing, biking, and horseback riding on a large network of trails. Nearby lakes like Scotts Flat offers owners opportunities for fishing, water skiing, camping and boating. An hour away, Lake Tahoe is perfect for plentiful powder at world-class resorts in the winter and hiking, mountain biking and day trips during the warm summer months.
The music scene is alive and happening in Nevada City, with nightly live entertainment in downtown establishments. Music in the Mountains is a long-established concert series, attended by locals and music lovers from miles away. Miners Foundry Cultural Center hosts many events throughout the year and is the site for art auctions, concerts, parties, and weddings. Some of the many events in Nevada City you won't want to miss are Mardi Gras, Foreign Car Show & Wine Stroll, Soap Box Derby, Nevada city Bicycle Classic, Farmers, Markets, Nevada City Film Festival, Constitution
Day Parade, and Victorian Christmas just to name a few.
With a lifestyle so rich in recreation, culture, and history, many are eager to call Nevada City Ca their new home. Give us a call and let us share this wonderful community with you.